By Sabrina Samone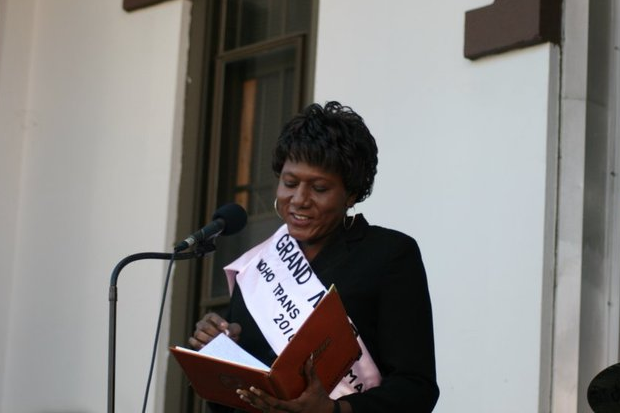 When a close friend of mine once proposed I blog, I was un sure, for a second. The obvious was life as a trans woman but the idea of day to day post of the changes of hormones on my body, how life was so difficult being trans and beauty advice simply bored me to even think about it. So I went through hundreds of trans blogger pages searching for inspiration. I kept finding myself going back to a few trans women and men who actually had something meaningful to say, one of my favorites was
Monica Roberts of Transgriot
.
She planted the seed within me to speak up and out about the issues I felt was facing the trans community as Isaw it, whether or not anyone would ever read my words or if they never made any sense. Her words were simply, all our voices had to be heard loud and clear so the world will know we've had enough and the direction of the trans community had to be redirected. As a trans woman of color her words spoke volumes to me. Here was a woman who preached self respect and that we women of color had a dignity, strength that needed to be seen. In a world of women discussiing but and breast size this was a refreshing window for me and I was eager to jump in head first.
Many transwomen and men have been touched and influnced by her, I am just one of thousands. Lately she expierence the type of discriminiation many of us have or will feel from our families at times and their transphobic ways have left her in a difficult situation. What may be remarkable to someone that don't know Monica but surely not any of us that do, that even during her difficulties she continues to inspire and lead her people. It only took hearing of her situation to end even my six month writers block to lend my lil voice, but as Monica has always shown me, even a lil voice is better than having no voice at all.
There is a lesson here for the trans community, if we can't standup and support one another; others going through the same life changes as we are, how could we ever expect our oponents to do so. Please do what you can for a true rare Trans pioneer, share this post or her fund page, tell a friend, send a lil change whatever you can do.
Many bloggers, activist have leant there voice including Fallon Fox who is auctioning of her art work, please add your name to the list of brothers and sister that care.
TO ASSIST GO TO THE MONICA ROBERTS FUND PAGE, WE ARE DOWN TO THE LAST 30 HOURS.
Monica Roberts needs our help
Many of us are familiar with Monica's good work over the decades. She's been there for many of us over the years and now, Monica needs us to be there for her in her hour of need.
Some of you may know that Monica moved back to Houston to care for her grandmother. Unfortunately, the grandmother's transphobic son has decided that Monica's presence is bad for his mother and has suddenly declared that Monica must be out of the house by today. Without the community's support, Monica will be homeless.
We've ensured that she has a very temporary place to stay for the next few days and have lined up permanent housing that will be available to her in the 1
st
week of November. However, we need to raise enough to house her in an extended stay motel for a week and enough resources to ensure that her utilities are turned on and that she is able to set up a household.
Thank you gifts!
UPDATED thank you gifts from Fallon Fox:
$300: Original signed Fallon Fox artwork, #1
8 1/2" x 11"


$300: Original signed Fallon Fox artwork, #2
8 1/2" x 11"

$200: Original signed Fallon Fox artwork, #3
8 1/2" x 11"

$425: Original signed Fallon Fox artwork, #4
18" x 20"
Original thank you gifts:
$25: Rebecca's Army Moto Club (RAMC) Patch
(10 available)
RAMC is an activist motorcycle group and these beautifully designed patches are a call to "wake up" and take action. For more info on the historical nuances of the Club's design, click here.



http://i.imgur.com/3JiB3cY.png
$75: Trans Unity Banquet Pack
(1 available)
1 new and unused transgender unity coffee cup was made available to attendees of the 2014 Trans Unity Banquet.
1 RAMC patch
1 new LGBT equality wristband
1 "Houston Equal Rights Ordinance" vinyl supporters sticker
1 "Growing Old Gracefully: The Transgender Experience" documentary from trans filmmaker and founder of the "Gender Reel" festival, Joe Ippolito
1 "Trans Unity" tote bag

$300: Painting by Cristan Williams
(1 available)
Titled "Freedoms #18," this original one-of-a-kind piece is acrylic on canvas and is 24" x 30"


$500: Painting by William Loyd
(1 available)
Titled "Happy Sky," this original one-of-a-kind piece is resin on canvas and is 32" x 19"





$1000: Painting by William Loyd
(1 available)
Titled "Topography," this original one-of-a-kind piece is resin on canvas and is 41" x 49"

The Impact
Your donation will ensure that pioneering black and transgender activist, Monica Roberts will:
Not be made homeless by a bigoted family member.
Ensure that she is able to make a fresh start in safe, stable and permanent housing.
Financially help with this campaign, here are some other ways you can help:
Share this with people who you can financially support this campaign

Contact us if you're able to help out with setting up a household. Monica will be starting anew, so help with kitchen and cleaning supplies are appreciated!